| | | |
| --- | --- | --- |
| | Tommy Lamph | |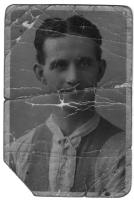 | | |
| --- | --- |
| Position | Right half |
| Born | unknown, Gateshead (England) |
| Height | 176 cm |
| Weight | 70 kg |
| International Caps | none |
---
---
Leeds Career
League
FA Cup
League Cup
Europe
Other
Season
Apps
Goals
Apps
Goals
Apps
Goals
Apps
Goals
Apps
Goals
1920 - 1921
6
0
0
0
0
Total
6
0
0
0
0
---
Jabba's Comments

Tommy Lamph is one of only two players to appear for both Leeds United and Leeds City. By no means a regular for either side, he had been picked up by Manchester City in the auction of Leeds City's players and equipment in 1919 but was back in Yorkshire 2 years later to have a short spell with Leeds that was dogged by poor health which continued after he retired from the game in 1922 and lead to his early death at the age of 32.

P Howard (nee Lamph) says: I think I might be related to Tommy Lamph and have photos of him with Leeds City.
---
Have your say
Did you see Tommy Lamph play? Did you meet him in a pub, go to school with him, decorate his house or buy a motor from him? If you've got any comments or stories about Tommy Lamph on or off the pitch, just fill in the form below and (provided they're not blatantly libellous) I'll add them to this page. And just a quick note to the spammers who try to add their links to this page by attempting to get round the client-side validation: don't bother - the server side does similar checks and throws your garbage straight into the bit bucket.